This page is devoted to diverse subjects--the first of which is indeed, The Martian Government in Exile.
Years ago, we had a big space festival in Ithaca (Space Odyssey Ithaca). We waylaid an exhibit of Soviet space art en route to Chicago, arranged for an astronaut to visit, had an SF convention, and arranged for lots of exhibits and related events. The cadre who provided much assistance and support for the event decided they would be the Mars Gov't in Exile. We had Martian flags designed and fabricated, had tee-shirts made with the flag logo, wrote the Martian National Anthem (a very popular song among kids in Ithaca during that time), and commissioned a painting for the event.
Ithaca in Space: Cayuga lake, Cornell University, etc, and The Martian Flag (click on images for enlargements)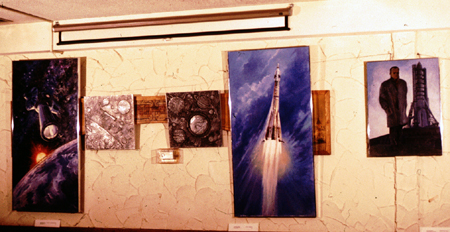 Part of the Soviet space art exhibition (click on image for enlargement)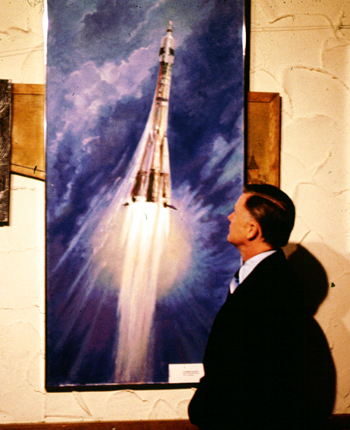 An American astronaut views a Russian rocket painting. (click on image for enlargement)
We issued press passes, and circulated the Mars National Anthem (click on anthem for enlargement).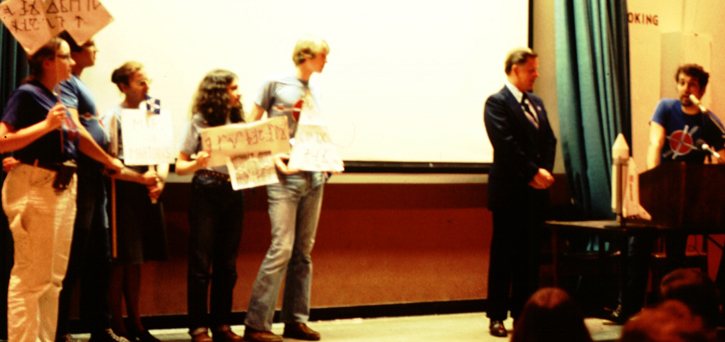 A protest by the Mars Gov't in Exile. We don't know what they're protesting since the signs are in Martian.
(Click on image for enlargement)
---