Chapter 17
It was already about 9 in the morning. I was still locked in the cage and I hadn't had any breakfast and it was quiet and no one was around. It was boring.

Then everyone started going toward Zoo Center. Some Calfers came by my cage and threw me a candy bar. They were going to have a big meeting about making someone go in with the polar bears if they didn't get what they wanted. I don't know what the Calfers wanted. I think they wanted all zoos to be closed down, but that's crazy. I found out later that they wanted some French cookies also.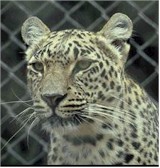 After a while it got quiet again. I guess everyone was in the meeting. Then one of the leopards came back. He looked mad that I was in his home.
I had my TV again, but I couldn't use it much because the batteries were almost dead, so I watched it for about a minute at a time, and then turned it off. If the TV'd been totally dead, I'd have felt awful.