Chapter 28
I was right. Mr. Cave was still bad. Before Jack brought Cat to him, he cut the phone line. It was the only working phone in the zoo. It went right to the police department.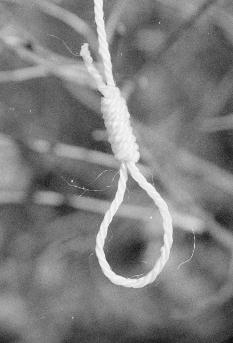 Jack brought Cat in to Mr. Cave and Mr. Cave told Jack to leave them alone. There was lots of food and cookies and soda, and then Mr. Cave asked Cat to tie scout knots. Cat showed him a lot of knots and then Mr. Cave asked Cat if he could tie a hangman's noose. Cat said, of course he could, and tied one. Mr. Cave asked Cat if he'd like a ride on the SkySafari now, and Cat said that would be great.
Mr. Cave and Cat went out to go to the SkySafari. Mr. Cave took the hangman's noose with him.
About the same time, Rom, Cat's Cubmaster, escaped.