Chapter 32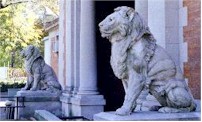 My album started with lions and it's going to end with lions, except for the next page which doesn't have any lions.
The police let us go home, but dad didn't think his car key would still work. Anyway, he wanted to keep his spear. They would have driven us home in a police car, but dad had them call a taxi instead. I don't know why. The police car would have been more fun.
I don't remember getting home. I fell asleep in the taxi and dad carried me inside.