Chapter 11
We were going to escape later that night. My dad tried to get the other hostages to come with us, but they wouldn't. I'd hoped they'd come since I thought if we all escaped together, the tigers running around might not try to eat us, and if one did try, he'd probably eat some other hostage. I'm not very big, and there's not much meat on me.
They'd have come with us if they knew Mr. Cave as well as I do.
Mr. Cave can be very nasty. He locked Brian's friend in with vampire bats all night and he turned out all the lights. I never believed vampire bats were real, but they are.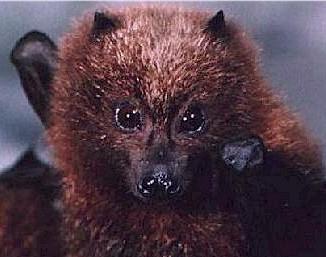 This is a bat. It's not a vampire bat and I think he's upside down. Bats hang upside down most of the time.